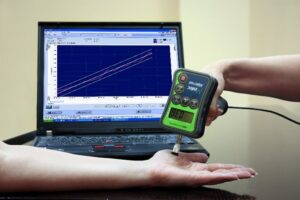 The AlgoMed – Computerized Pressure Algometer is the first software-based computerized Algometer to offer real-time visual & auditory feedback to control & monitor applied pressure rates.
Algometers are designed to quantify and document levels of tenderness via pressure threshold measurement and pain sensitivity via pain tolerance measurement. Pressure algometry is a reliable measure of pain in muscle, joints, tendons, and ligaments.
The AlgoMed is available as a stand-alone unit or as an accessory to Medoc's PATHWAY System.
Key AlgoMed features:
Real-time visual & auditory feedback

Available as Stand-alone product or as an add-on to the PATHWAY System
Comprehensive test statistics
Body site selection
Customizable outcome-based color graphic reports
Calibration verification weight
Normative data presentation*
Ramp & hold protocol