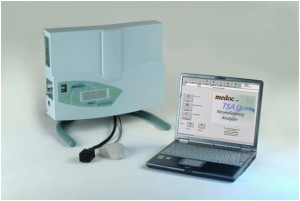 TSA-II – NeuroSensory Analyzer
An essential Quantitative Sensory Testing (QST) tool for evaluating nerve impairment in clinical, research and pharmacological trial settings
The TSA-II NeuroSensory Analyzer is a precise, computer-controlled device capable of generating and documenting response to highly repeatable thermal and vibratory stimuli, such as warmth, cold, heat-induced pain, cold-induced pain or vibration.
The TSA-II delivers quantitative assessment of small-caliber (A-Delta and C-fiber) sensory nerve function, as well as for large caliber A-Beta fibers. The TSA-II is also used for identifying thermal pain thresholds in various clinical and research applications.The test procedure itself is similar to that employed in such routine tests as eye and hearing examinations, where patients are asked to respond to visual or auditory stimuli.
The TSA-II thermode is placed on the patient's skin to heat or cool the skin. Patients respond to the temperature stimuli by pushing a button, and the sensory threshold is recorded and automatically compared to an age-matched normative data.
TSA-II Features
Outcome-based color graphic reports with automated narrative discussion of test results for insurance and referral networks
Automatic comparison of test results to normative reference data
Portable, fast set-up and ease of use
Versatile WINDOWST based software with selection of test paradigms for maximum flexibility in clinical, research and drug trial applications.
Various test methods (Limits, Levels and Manual)
Factory installed default protocols for immediate clinical use
Proven Repeatability
Useful in monitoring, treating and testing in:
Fibromyalgia
Painful neuropathies
Lumbar Radiculopathy
Small-fiber allodynia in Complex Regional Pain Syndrome (CRPS)
Underlying Central Nervous System impairment in difficult-to-diagnose patients
Early detection of diabetic neuropathy of small-caliber nerve fibers
Effectiveness of growth factors, aldosereductase
Inhibitors and other new therapies
Entrapment and toxic neuropathies
Testing programs to detect malingerers
Nerve root compression and inflammation